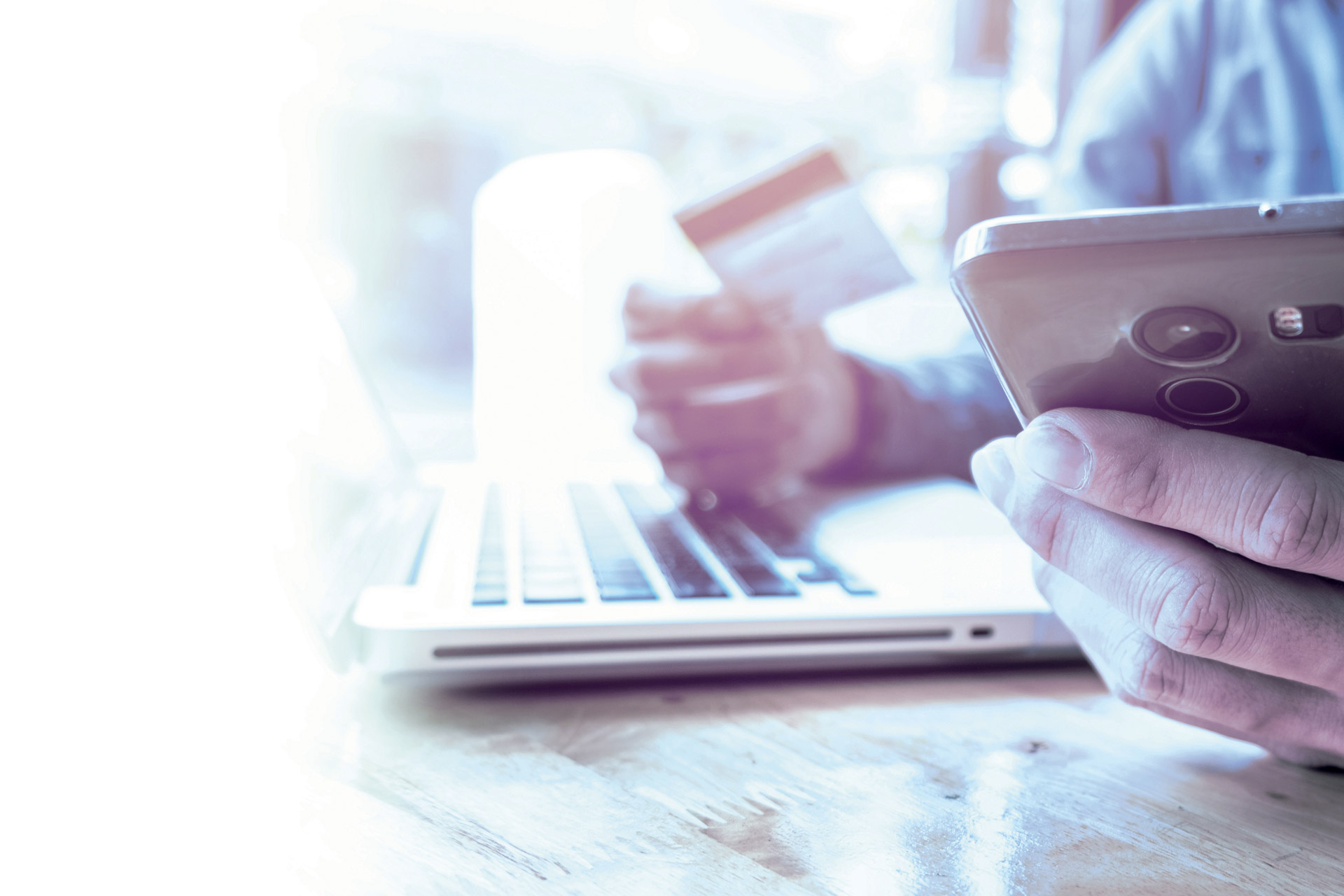 WIIT 4 Innovation
Lo scenario
La digitalizzazione è la bussola che guida le aziende nel ridisegnare i propri processi per renderli più resilienti ed efficienti. Il nostro obiettivo come partner per l'innovazione è quello di riuscire a costruire insieme ai nostri clienti soluzioni tecnologiche in grado di rispondere alle loro esigenze, anche innovandone i modelli di business.
Saper cogliere le opportunità offerte dalla digitalizzazione è fondamentale per sopravvivere alle trasformazioni del mercato e innovare, rispondendo in modo efficace a una competizione sempre più globale e a uno scenario sempre più incerto.
"Stiamo sistematizzando all'interno del Gruppo le nostre competenze, organizzandole in centri di eccellenza nazionali volti a costruire un'offerta sempre più completa e innovativa per i nostri clienti"
DAVIDE CAPOZZI, Director of Business Integration and Innovation
WIIT 4 Innovation
Gli obiettivi ottenuti al 2021
Abbiamo messo l'innovazione al centro del nostro modello di business. Rendiamo accessibili tecnologie best-in-class e persone qualificate ai nostri clienti, aiutandoli a creare nuovi modelli di business.
Operat. Agility

PIATTAFORME CLOUD BASATE SU PARADIGMI SCALABILI
DevOps

SVILUPPO ACCELERATO E COLLABORATIVO
8 Idee

RACCOLTE CON IL CONTEST INTERNO DELL'INNOVATION AWARD
RPA

MENO ERRORI, PIÙ EFFICIENZA ED EFFICACIA CON L'AUTOMAZIONE DEI PROCESSI
WIIT 4 Innovation
Gli obiettivi 2030
A testimonianza del nostro impegno sui temi di sostenibilità e innovazione, WIIT metterà in campo nuove linee di azione su iniziative di ricerca scientifica, attività di co-innovation e process automation.
Obiettivo dell'ESG Plan è, inoltre, destinare l'1% del fatturato annuale a servizi digitali per organizzazioni in ambito no profit.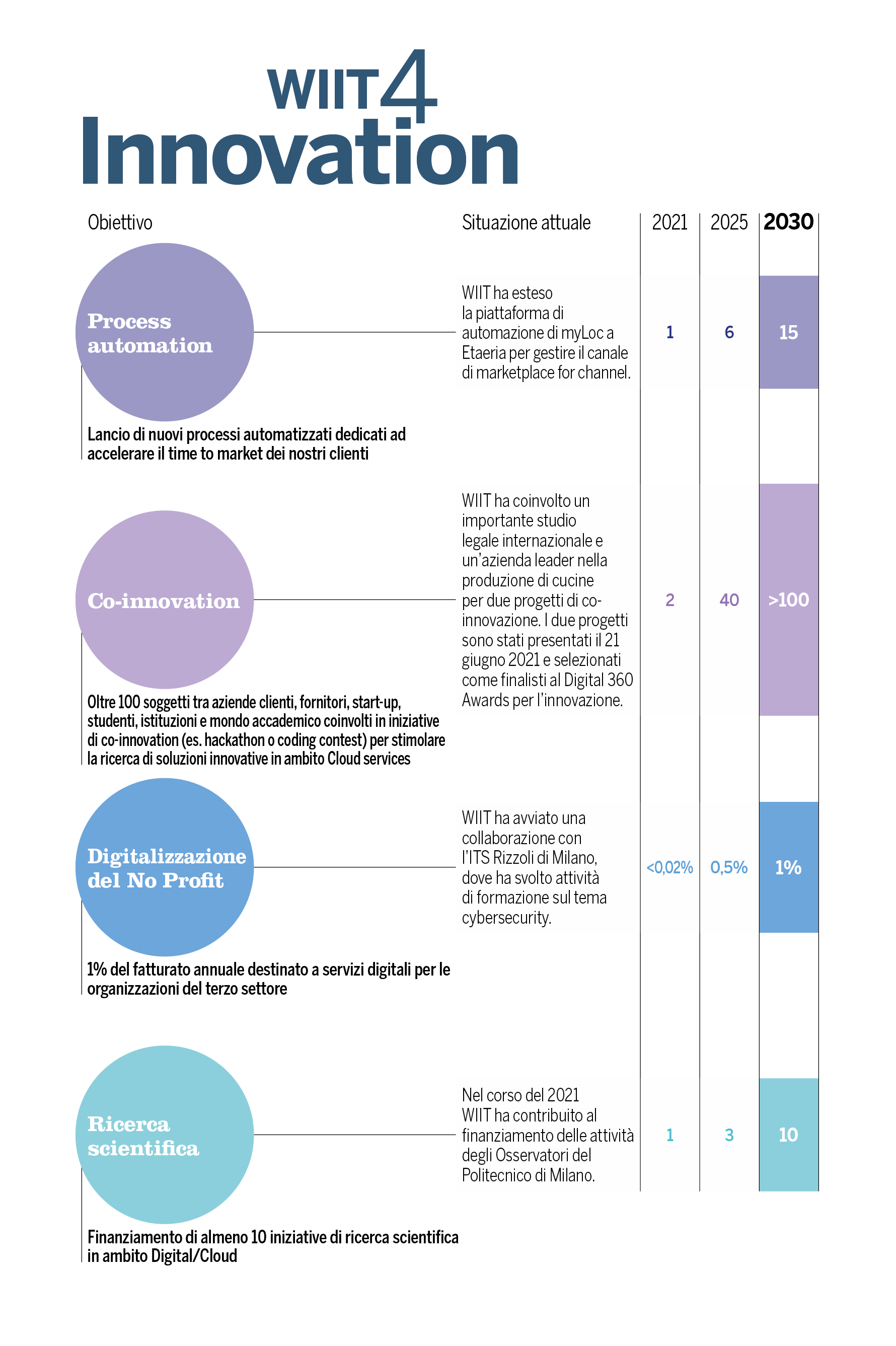 WIIT 4 Innovation
Case studies
Da diversi anni WIIT ha in capo l'architettura dedicata ai servizi e-commerce di un'importante multinazionale del lusso, che detiene diversi famosi marchi di moda.
Per questi motivi la multinazionale si è rivolta a WIIT per un supporto nella gestione DevOps della piattaforma AEM utilizzata per lo sviluppo dei propri e-commerce. WIIT, in quanto partner specializzato, si occupa ora di affiancare il team IT del cliente nei progetti evolutivi (rilasci nuove funzionalità, countries, etc.), di coordinare i fornitori dell'ecosistema digital e supportare i team di sviluppo, business e content che collaborano ai progetti di sviluppo e IT.
Scopri gli altri Pillar della sostenibilità di WIIT
Bilancio di Sostenibilità
WIIT 4 Climate
Per contrastare il riscaldamento globale servono azioni immediate, sia a livello locale che sistemico. La nostra ambizione è quella di fornire un contributo sostanziale al raggiungimento degli obiettivi di transizione sostenibile, riuscendo, entro il 2030 a rendere Carbon Neutral tutte le Aziende del Gruppo.


Bilancio di Sostenibilità
WIIT 4 Data
I dati sono il "nuovo capitale" e per proteggerli occorre schierare difese tecnologiche e organizzative sempre più sofisticate. Per sostenere le organizzazioni garantiamo Data Resiliency e Cybersecurity per la salvaguardia dei sistemi informatici.
Bilancio di Sostenibilità
WIIT 4 People
La tecnologia non produce risultati senza le giuste competenze. Il successo di un'azienda tecnologica si misura sulla capacità di attrarre i migliori talenti, facendoli crescere e crescendo insieme a loro. Investiamo sulla crescita delle nostre persone e su quella dei nostri clienti attraverso un'Academy dedicata.