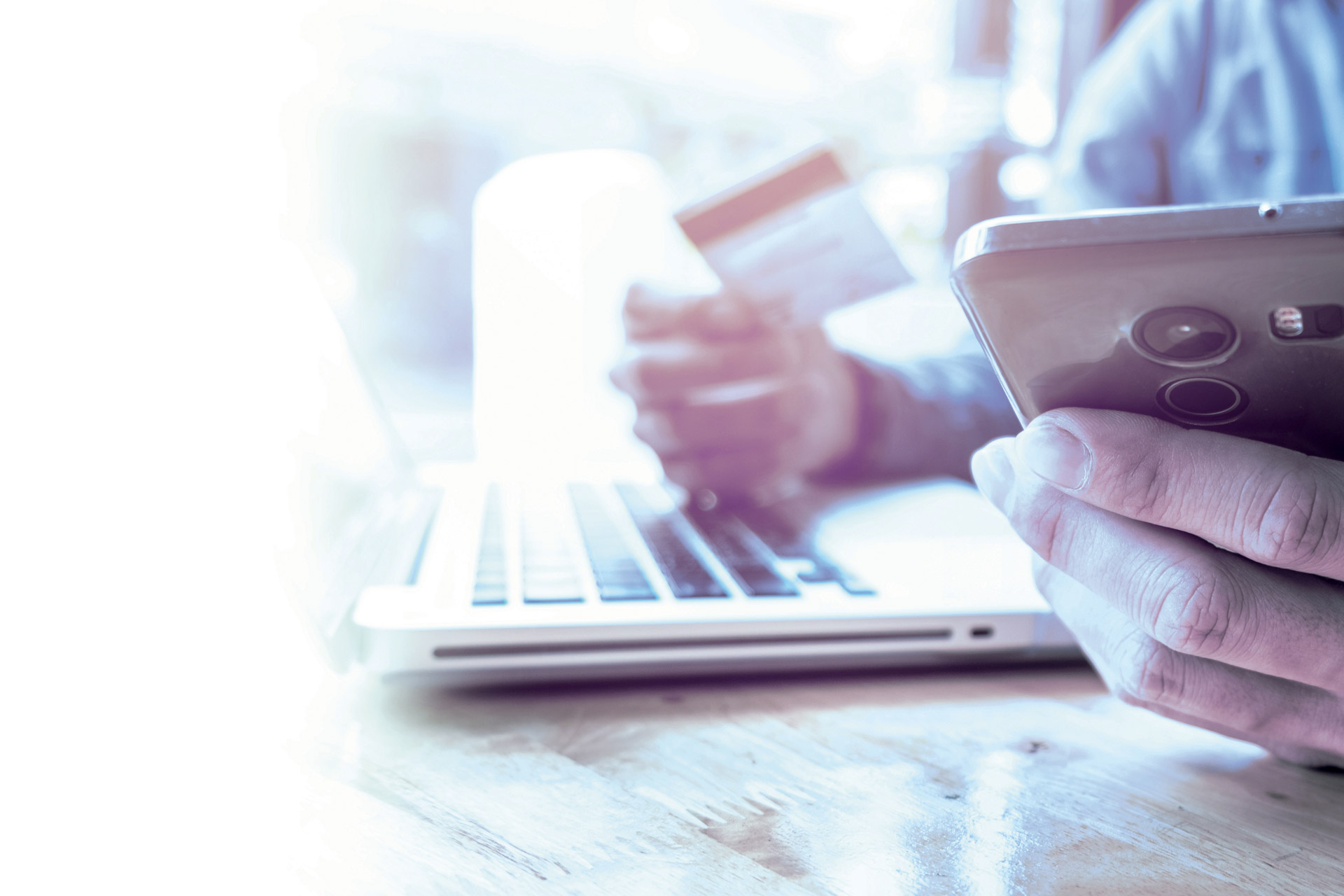 WIIT 4 Innovation
The Scenario
Digitalization is the compass that guides companies as they redesign their processes to make them more resilient and efficient. Our goal as an innovation partner is to be able to develop together with our clients technological solutions able to meet their needs, also innovating their business models.
Knowing how to seize the opportunities offered by digitalization is fundamental to surviving market transformations and innovating, responding effectively to increasingly global competition and an increasingly uncertain scenario.
"We are systematising our skills within the Group, organising them into national centres of excellence aimed at building an increasingly comprehensive, innovative offer for our customers."
DAVIDE CAPOZZI, Director of Business Integration and Innovation
WIIT 4 Innovation
Achievements to 2021
We put innovation at the heart of our business model.
We make technology and skilled people accessible to our clients, helping them create new business models.
Operat. Agility

CLOUD PLATFORMS BASED ON SCALABLE PARADIGMS
DevOps

ACCELERATED AND COOPERATIVE DEVELOPMENT
8 Ideas

COLLECTED WITH THE INTERNAL INNOVATION AWARD CONTEST
RPA

FEWER ERRORS, GREATER EFFICIENCY AND EFFICACY WITH PROCESS AUTOMATION
WIIT 4 Innovation
2030 Targets
We believe that our strength lies in our ability to intermediate, reinterpret and combine what the market makes available to create solutions that meet the real needs of clients.
We operate as a facilitator, intermediating supply and demand, creating high value-added services from mature technological innovations on the market.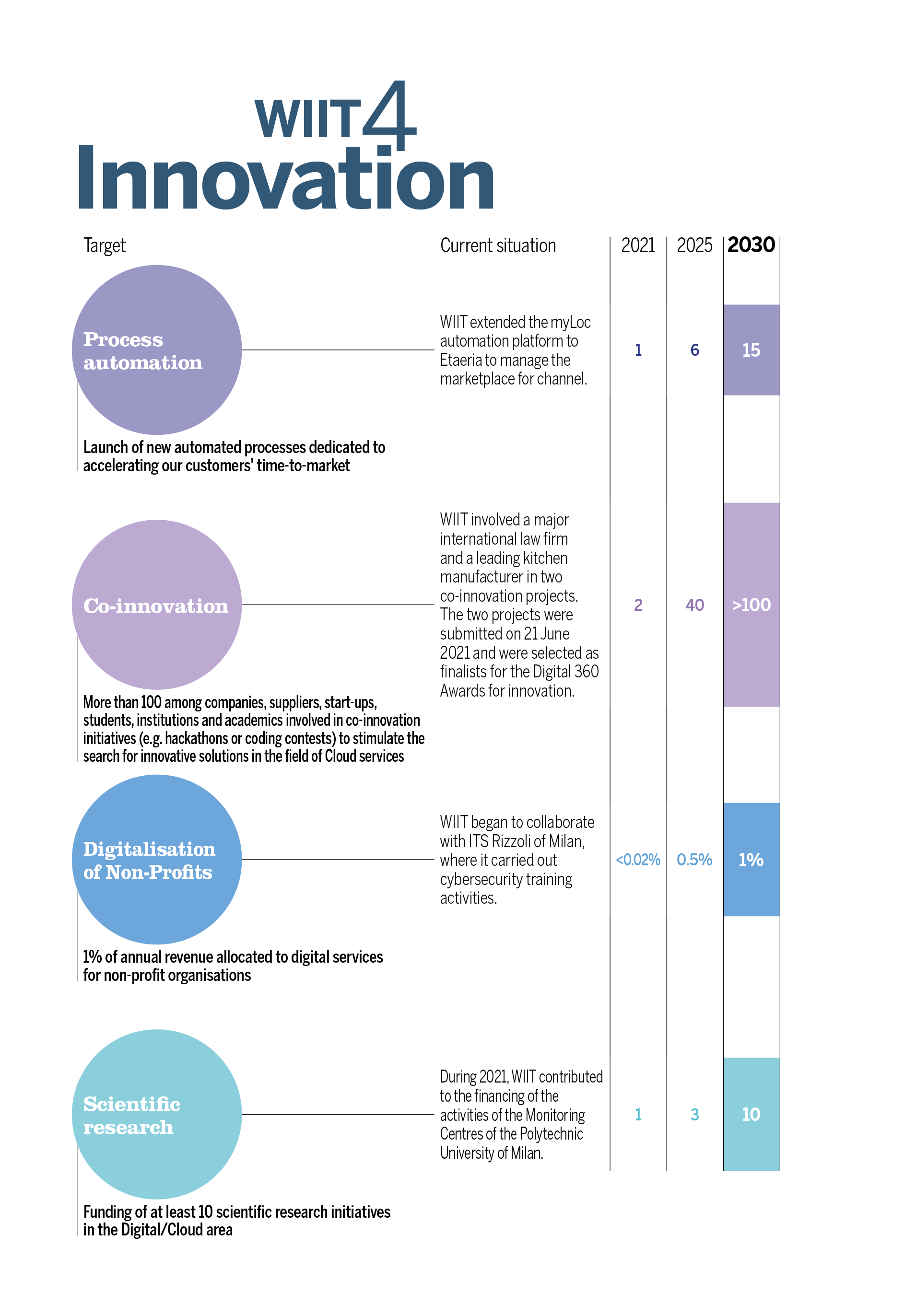 WIIT 4 Innovation
Case studies
For several years now, WIIT has been in charge of the architecture dedicated to the e-commerce services of an important luxury multinational, which owns several famous fashion brands.
For these reasons, the multinational turned to WIIT for support in the DevOps management of the AEM platform used for the development of its e-commerce. WIIT, as a specialized partner, is now in charge of supporting the client's IT team in evolutionary projects (release of new features, countries, etc.), coordinating suppliers of the digital ecosystem and supporting the development, business and content teams that collaborate on development and IT projects.
Discover WIIT's other Pillars of Sustainability
Sustainability Report
WIIT 4 Climate
Immediate action is needed to combat global warming, both at local and systemic level. Our ambition is to make a substantial contribution to the achievement of the sustainable transition objectives, succeeding in making all Group companies Carbon Neutral by 2030.


Sustainability Report
WIIT 4 Data
Data is the "new capital" and to protect it it is necessary to deploy increasingly sophisticated technological and organizational defenses. To support organizations we provide Data Resiliency and Cybersecurity to safeguard information systems.
Sustainability Report
WIIT 4 People
Technology doesn't produce results without the right skills. The success of a technology company is measured on the ability to attract the best talents, making them grow and growing with them. We invest in the growth of our people and that of our customers through a dedicated Academy.