What is "Mission Critical"
The new essential functions
What is "mission critical" today? With the progressive digitalization of processes, new contexts have been added to the areas traditionally considered essential to the functioning of the business – supply chain, production and logistics. Today, Enterprise Resource Planning platforms are available to the market, which include in a single application environment all the tools needed to optimize the value chain, even in advanced scenarios such as omnichannel operations, which are highly dependent on the collection and availability of up-to-date data.


Sector by sector
The challenges of the productive world
Maintaining maximum efficiency along a series of processes that continue to intersect, becoming increasingly complex, is the new challenge for companies belonging to sectors that are facing the challenge of digitalization and the phygital dimension: Fashion, Luxury, Manufacturing and Pharma. The mission-critical platforms on which the market players' systems run must offer optimal performance for each workflow, regardless of vendor, while reducing pressure on the IT infrastructure and maintaining sufficient elasticity to scale as the needs of the business change.
A versatile partner
The WIIT platform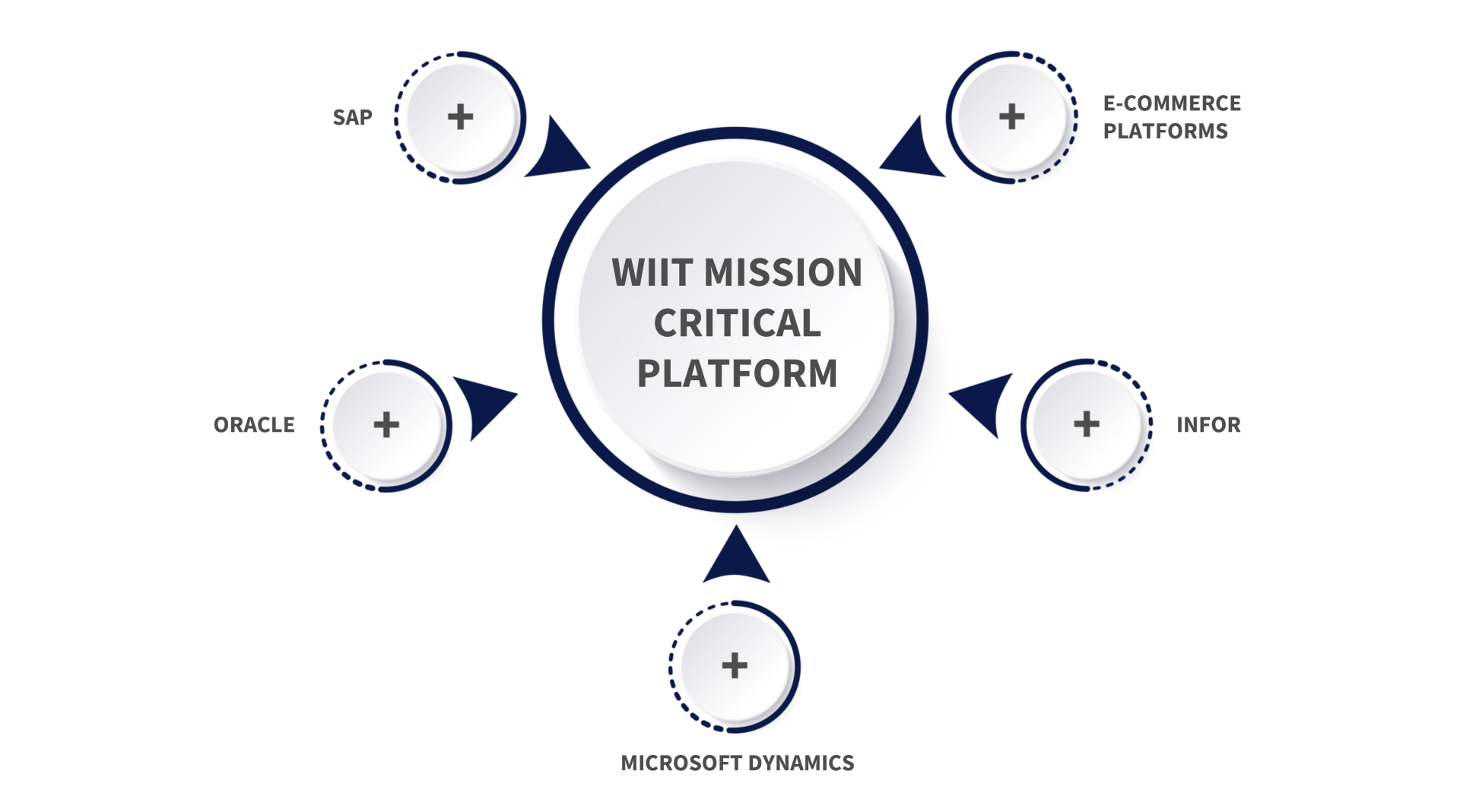 A nerve center
SAP, the business hub
With S/4HANA, SAP has created a mission-critical platform that goes well beyond the concept of ERP architecture: thanks to its modularity, it is one of the few software programs that can cover almost all the needs of companies in a wide variety of verticals. By freeing itself from the constraints of relational databases and focusing on in-memory technology, it has created a new paradigm that disrupts the traditional logic of data access, giving companies that have adopted it extraordinary agility.
Oracle's versatility
Oracle's most popular mission critical platforms are JD Edwards EnterpriseOne and E-Business Suite. While the former is an ERP suite with more than 80 application modules that is fully integrated with a wide choice of development and database options, the latter is essential for executing strategic business operations.


Microsoft Dynamics 365
With Dynamics 365, Microsoft has provided enterprises with a portfolio of intelligent applications that enable all types of business users to achieve optimal operations, with the ultimate goal of creating increasingly engaging customer experiences.
Infor's CloudSuite
Infor's CloudSuite offering is based on two unique elements, which together are able to unleash the full potential of modern application environments: advanced Cloud-based solutions also make the delivery of vertical and industry-specific platforms extremely flexible.


Ecommerce solutions
ERPs developed to orchestrate commerce activities on digital marketplaces, such as Magento and WebSphere, are becoming essential working environments for any kind of company.
Enhancing Data management
All mission-critical platforms, although implemented with different logics and purposes, have one thing in common: they release their maximum value only in presence of effective data management. This is what WIIT offers.