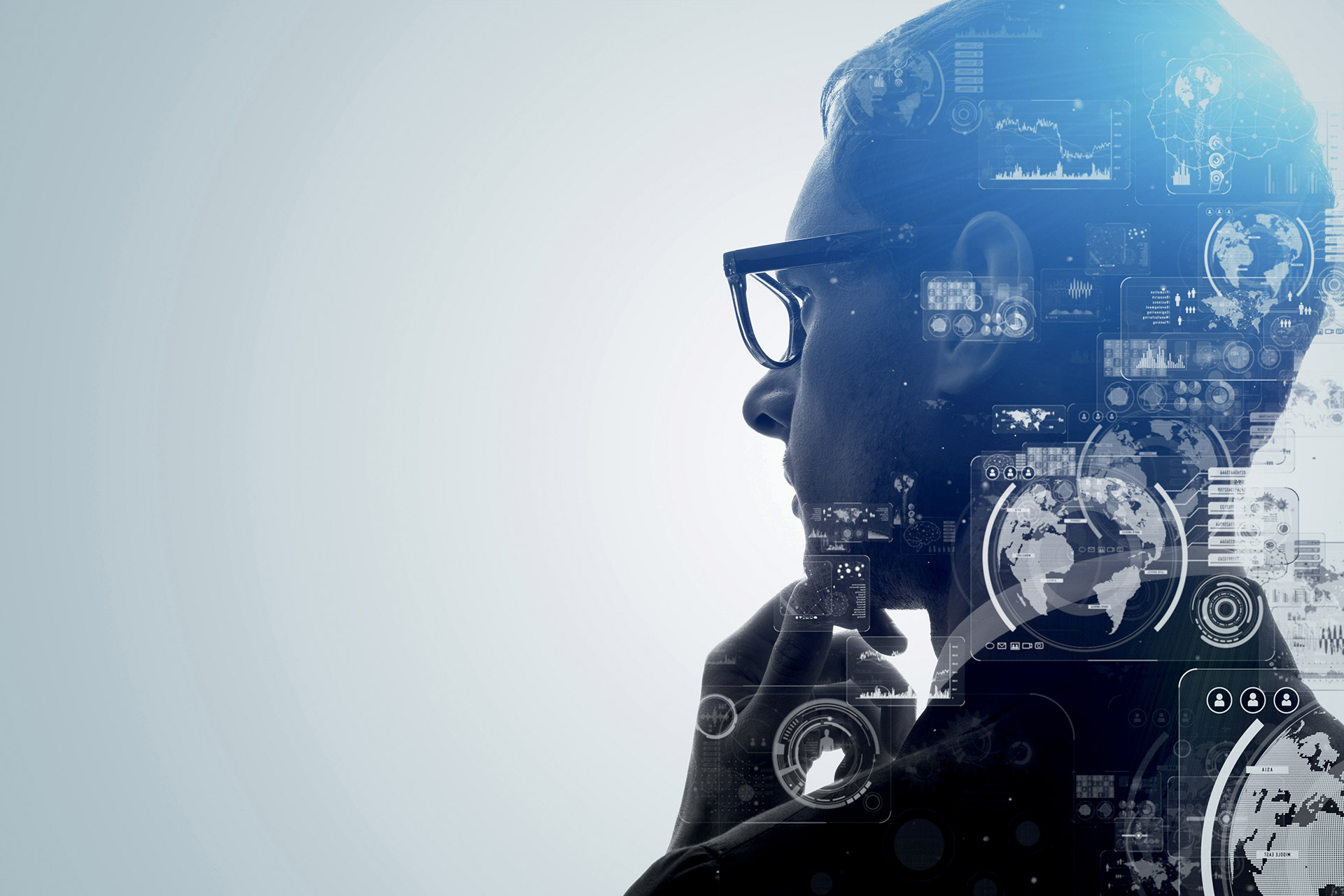 WIIT 4 Data
The Scenario
Natural disasters and extraordinary events are becoming more and more frequent and, with their effects, can put at risk the IT infrastructures of companies and therefore the information assets contained within them. It is important for businesses to be prepared for cyber crises, ensuring continuity of business processes, accessibility to systems, and protection of their data.
The Cloud represents a unique opportunity in terms of data resiliency as it allows, without huge financial efforts, reducing risks by moving data (all or part of it) into more secure facilities specifically designed to offer greater resistance to the most adverse conditions.
Cyber Security is the ability to provide 360-degree coverage against risks that come from criminal activities that use digital technologies to breach companies' information assets. Along with securing data storage infrastructure, it is critical to ensure data resiliency.
"Cybersecurity is evolving toward new paradigms aimed at protecting the hybrid multicloud. This evolution poses new challenges for organisations and requires additional skills from Chief Information Security Officers (CISOs), who are required to set new common security baselines for heterogeneous Cloud infrastructures. This is in addition to the importance of knowing the location of corporate data and its criticality to the business."
GIUSEPPE COLOSIMO, Cyber Security Director
WIIT 4 Data
Achievements to 2021
We help companies secure some of their most valuable assets: data and digital infrastructure.
The companies of the WIIT Group guarantee the highest levels of security through certified processes and infrastructures.
Tier IV

DC MILAN SECURITY LEVEL
99,995%

DATACENTER AVAILABILITY UPTIME CERTIFIED
0

SECURITY INCURSIONS AND BREACHES
80 Petabyte

DATA BACKED UP IN WIIT'S DATA CENTERS
WIIT 4 Data
2030 Targets
To support organizations in their digital literacy efforts, we have included within our ESG track a Cyber Security Assessment program dedicated to employees of client companies, which helps people understand and address the technical and emotional aspects behind cyber attacks.
Increasing the number of certified fault tolerant IT infrastructures from 300 kW to 1500 kW, useful to guarantee a continuous service, without failures or interruptions, and reaching 75% of the countries with Cloud Facilities covered by at least one TIER IV Data Center, will be the objectives of WIIT for 2030.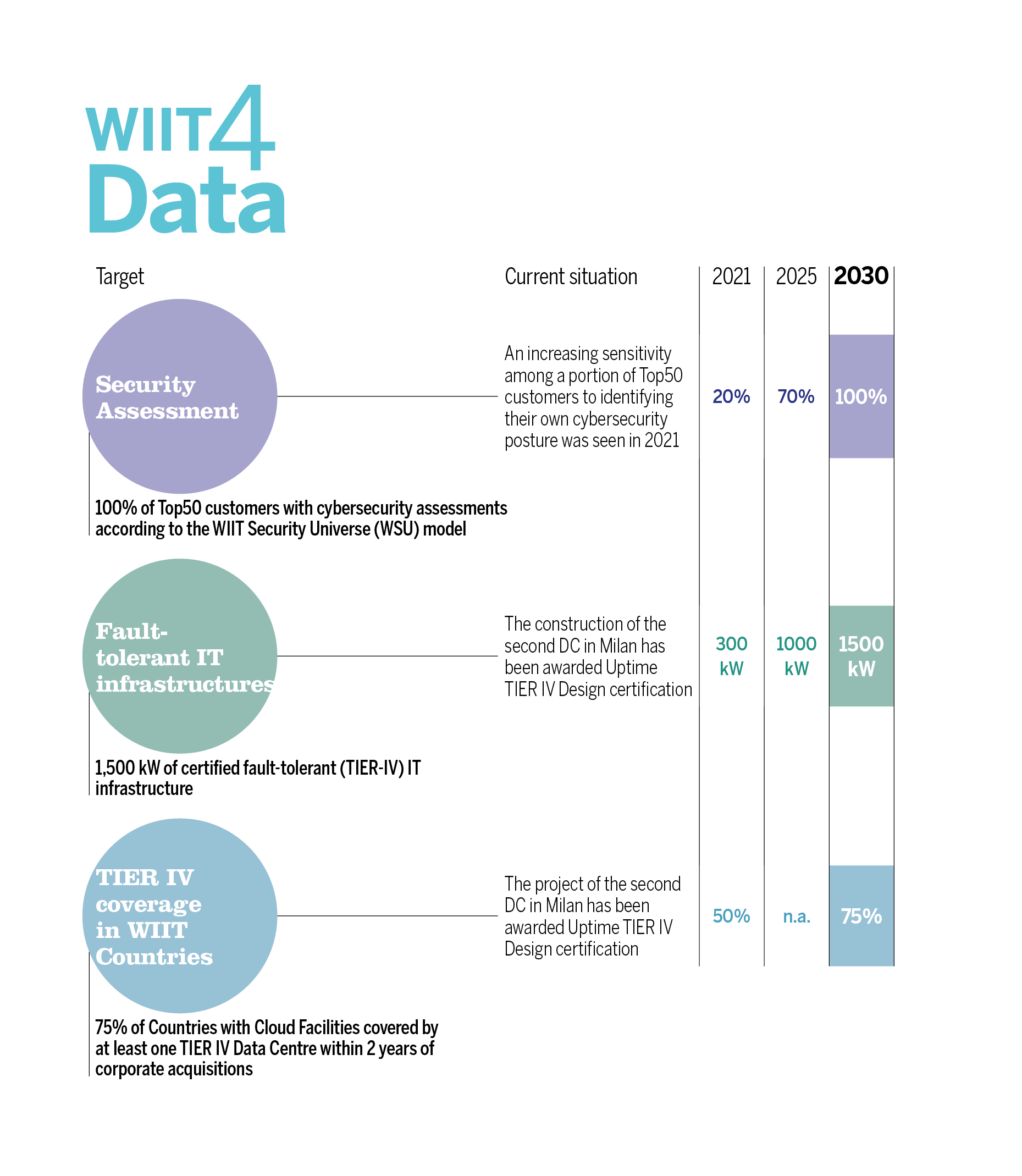 WIIT 4 Data
Case studies
This year, an important Italian fashion multinational turned to WIIT to reinforce its defenses in terms of Cyber Security.
Although the company had made significant investments in security, it lacked key defense measures such as threat intelligence, behaviour analytics, remediation tools, e-mail and attachment encryption, mobile device management and ongoing monitoring measures such as vulnerability assessment and penetration testing.
Discover WIIT's other Pillars of Sustainability
Sustainability Report
WIIT 4 Climate
Countering global warming requires immediate action, both locally and systemically. We are committed to counteracting climate deterioration by reducing our own climate-changing emissions. Our ambition is to make all Group companies carbon neutral by 2030.


Sustainability Report
WIIT 4 Innovation
WIIT's attention is focused on sustainability and innovation objectives that generate value by integrating them. We accompany companies by making every investment sustainable and profitable, providing tailor-made technological tools combined with the skills necessary for change.
Sustainability Report
WIIT 4 People
Technology does not produce results without the right skills. The success of a technology company is measured by its ability to attract the best talents, helping them grow and growing with them. We invest in the growth of our people and that of our clients through a dedicated Academy.