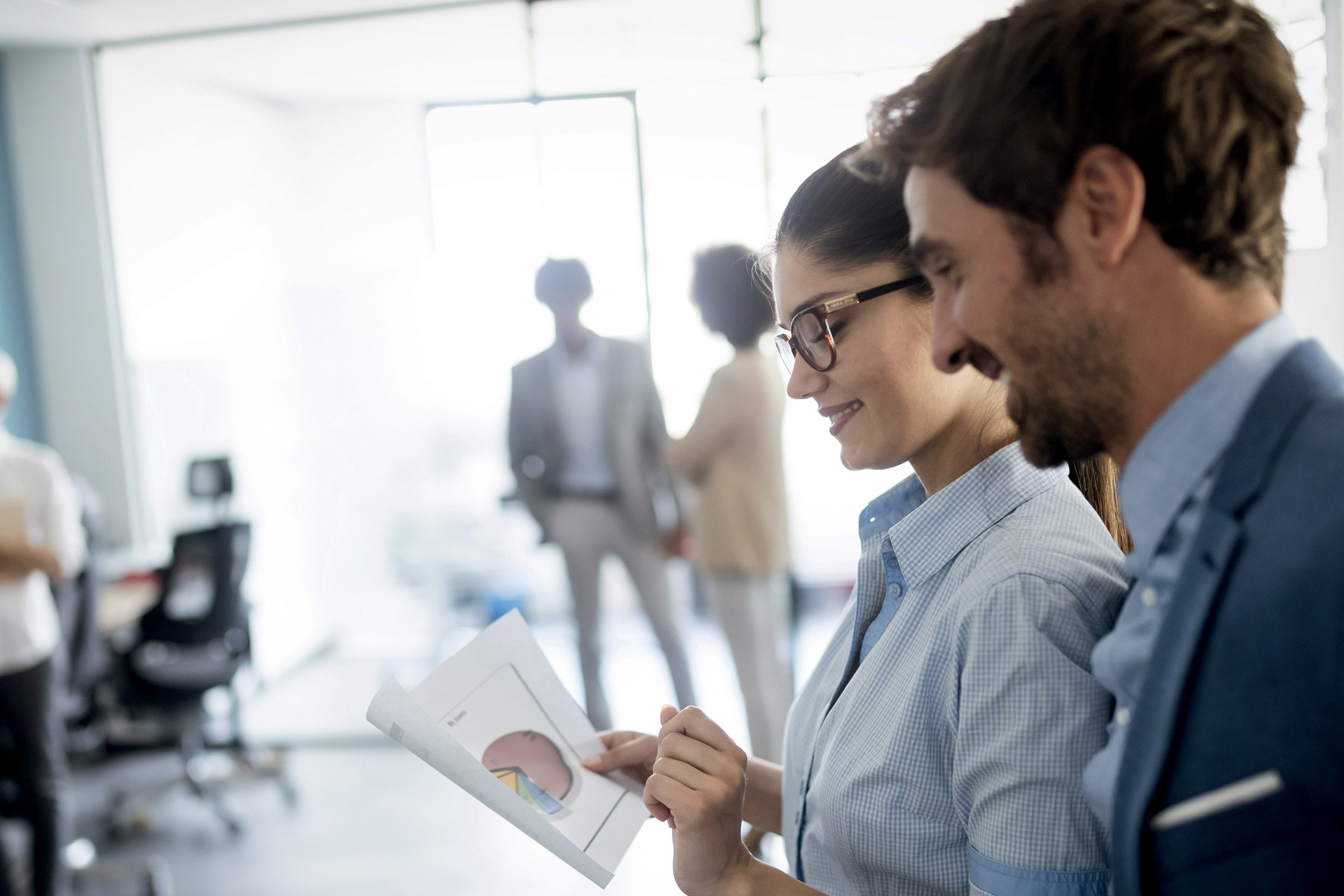 WIIT 4 People
The Scenario
Technology and innovation companies should take the lead in facilitating the uptake of STEM (science, technology, engineering, and mathematics) and computer science disciplines by actively contributing to the training of new professionals for the field.
This is a challenge that must be addressed on two fronts. Internally, it is important to invest in the growth of own resources, increasingly encouraging the development of technical skills and soft-skills, through the promotion of a context based on responsibility, entrepreneurship and autonomy, which allows everyone to be involved in the achievement of objectives.
"Pandemic has allowed us to rethink traditional HR processes. The challenge is no longer to organize work remotely but to create more and more Connected People Care services, taking care of people remotely but keeping them connected to the soul and culture of the company."
SARAH GALLI, Group HR & Organization Director
WIIT 4 People
Achievements to 2020
Technology does not produce results without the right skills. The success of a technology company is measured by its ability to attract the best talents, helping them grow and growing with them. We invest in the growth of our people and that of our clients through a dedicated Academy.
We invest in the growth of our people and that of our clients through a dedicated Academy.
99%

EMPLOYED ON A PERMANENT BASIS
4000+

HOURS OF TRADITIONAL TRAINING
11%

OF EMPLOYEES HELD A ROLE WITH GREATER TECHNICAL/MANAGERIAL SKILLS
WIIT 4 People
2030 Targets
As evidence of our commitment to the issues of sustainability and innovation, WIIT will implement new lines of action on scientific research initiatives, co-innovation activities and process automation. In addition, the objective of the ESG Plan is to allocate 1% of annual revenue to digital services for non-profit organizations.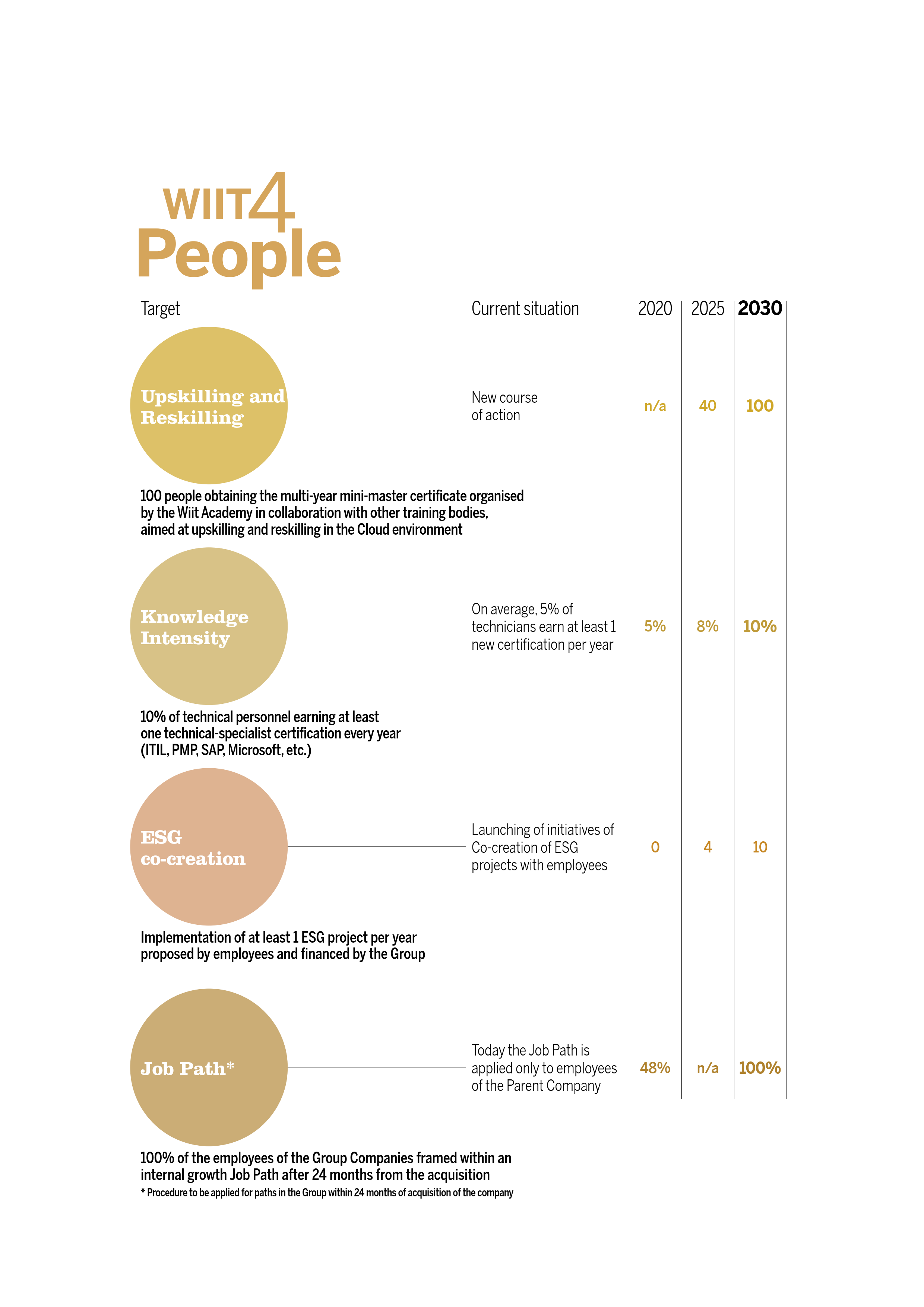 WIIT 4 People
Case studies
The commitment of WIIT extends beyond corporate boundaries. We believe that the Cloud is the future and, therefore, we need more and more people able to manage and govern its logic. For this reason, during 2020, the company Etaeria worked on the development of two training courses together with external partners, which will contribute to the training of new professional figures.
The first is the ICT Master in partnership with the Polytechnic of Turin and the Confindustria of Cuneo that aims to train young engineering graduates to create high-level specialists. The second path, called Reskilling Path, always in collaboration with Confindustria of Cuneo, is instead dedicated to ICT personnel.
Discover WIIT's other Pillars of Sustainability

Sustainability Report
WIIT 4 Data
Data is the "new capital" and to protect it it is necessary to deploy increasingly sophisticated technological and organizational defenses. To support organizations we provide Data Resiliency and Cybersecurity to safeguard information systems.
Sustainability Report
WIIT 4 Climate
Immediate actions are needed to fight global warming, both at local and systemic level. Our ambition is to make a substantial contribution to the achievement of the sustainable transition objectives, succeeding in making all Group companies Carbon Neutral by 2030.


Sustainability Report
WIIT 4 Innovation
WIIT's attention is focused on sustainability and innovation objectives that generate value by integrating them. We accompany companies by making every investment sustainable and profitable, providing tailor-made technological tools combined with the skills necessary for change.